This is what principled leadership looks like
As you know, Jim has a big, big goal. He's working to end hunger and food insecurity in America. Nearly 40 million Americans are struggling with food insecurity and don't know where their next meal is coming from.
That's why Jim has been pushing the White House to convene the first conference to address our hunger crisis in decades. And guess what? Jim got it done.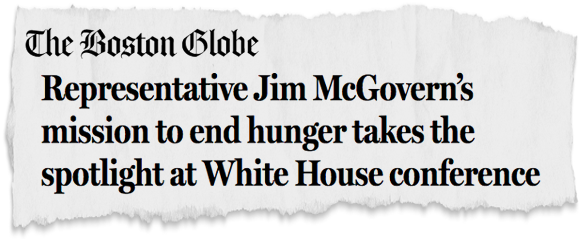 We need principled leaders like Jim in Congress. Will you chip in $3 to help send Jim back to Congress so he can keep up the fight?
This past Wednesday's White House Hunger conference focused on ending hunger by 2030 and was hugely successful.
One of the biggest recommendations that came out of the conference is the expansion of universal free breakfast and lunch at every school for every student. Jim has already introduced legislation to make this more of a reality.
It also focused on real solutions to hunger – such as conducting more screenings for food insecurity, increasing transportation options for Americans who do not have access to grocery stores, reducing food waste, and decreasing sodium and sugar in our foods.
This conference was a huge step in the right direction – and Jim played a big role in it.
Jim has made ending hunger in America one of his life's goals. And he will not give up until we ensure hunger and food insecurity are a thing of the past.
We can end hunger. We just need the political will to get it done. And Jim is a tireless advocate in this fight. Will you donate now and help keep Jim in Congress?
Team McGovern
Posted on October 4, 2022
.