Republicans don't want to hold Big Oil accountable
Take a look at this headline from the Washington Post, it really says it all: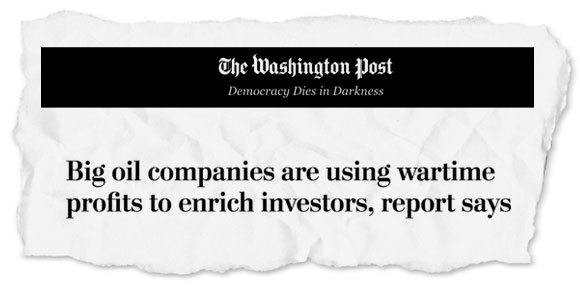 The Russian invasion of Ukraine is responsible for an uptick in prices, but that's not the whole story.
Oil companies are price-gouging Americans. Taking unfair advantage of a global disaster to increase profits? Frankly, it's sickening.
Instead of increasing oil production to meet demand, oil companies are holding back production and investing in stock buybacks and dividends. That's Wall Street for, "Wealthy investors are getting even richer."
Who pays the price? Working families.
And while Congressional Republicans have a lot of complaints about gas prices, they won't lift a finger to hold Big Oil accountable. That's why we have to keep and expand our Democratic majority. Chip in $3 now to fuel the fight.
This kind of corruption is allowed to happen because oil companies are largely deregulated.
That's why I'm proud to cosponsor the Big Oil Windfall Profits Tax Act, which would tax oil companies that are making huge profits at the expense of American families. The windfall tax will help lower the cost of oil.
But guess what? Not one single Republican has signed on to cosponsor. Not one.
While Republicans make a lot of noise about rising gas prices, they offer zero solutions to help lower prices.
I urge you to watch what House Republicans do with this bill when it comes to the floor.
If the past is any indication, Republicans will side with Big Oil, not American families. And then they'll try to blame Democrats, Hunter Biden's laptop, Black Lives Matter – anyone except the people making millions off others' misery.
Ultimately, we will continue our work to end our dependence on fossil fuels by investing in clean, renewable energy sources here at home. We cannot allow Big Oil to make vast fortunes by destroying our planet and then sticking us with the bill.
I'll keep up the fight to hold oil companies accountable and invest in clean energy.
But I can't do it without you. Will you donate $3 today?
Jim
Posted on April 14, 2022
.