Let's put responsibility where it belongs
Read the headlines about the Senate's voting rights bill this month, and you'd think Democrats were alone in Congress: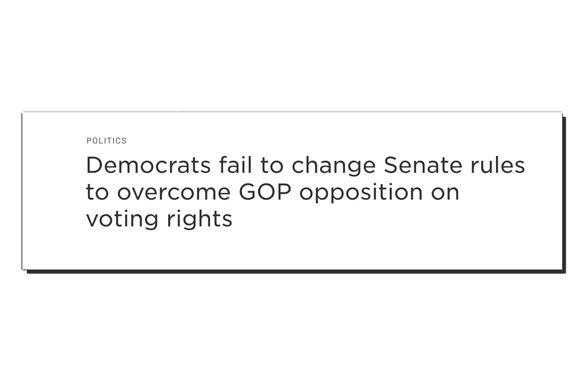 Let's get something straight: our elections are in danger because one party is attacking them. The Senate didn't pass the voting rights bill because Republicans blocked it.
The correct headline is "Republican Attempt to Overthrow Democracy Advances."
Chip in now to fuel the fight to elect a Congress that believes in democracy and that will fight to protect our voting rights.
Attacks on democracy don't just happen; they're the result of Republicans making a dangerous, deliberate choice, and we need to hold them accountable for that choice – in our language and in our elections.
Like you, we're disappointed by the Senate's gridlock – confused, angry, and worried, too – and especially in the Democrats who prioritized corporate donors over voters, but there's no time to nurse our wounds.
We're on a rescue mission to save American democracy. And that means we've got exactly one choice: press forward, and do whatever it takes to safeguard the right to vote.
Team McGovern
Posted on January 28, 2022
.