This week, I stood with Cory Booker & other experts
It's hard for many people to get excited about the work Congress does when, at the most basic level, they are struggling to survive.
Day after day, too many people across the country cannot feed their families or themselves. Our nation's hunger crisis is a full-blown epidemic at this point.
I'm taking the next big shot to organize America to get something done about it: joined by New Jersey Senator Cory Booker, Rep. Ayanna Pressley, and chef Tom Colicchio I stood with some of our nation's leading hunger, nutrition, and poverty-fighting experts as we made our case for a having the White House host the next generation-defining conference on food, hunger, and health.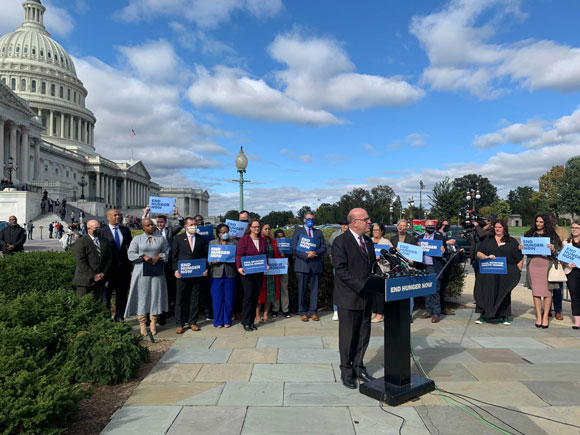 That's us, stating our case. I'm damn proud to have stood by these terrific advocates and leaders.
I know a conference is only the first step, but we need a unified, bipartisan solution here. Enough half-measures. Enough piecemeal solutions. Enough political in-fighting.
I've got plans to make things better. So do my colleagues in the Senate. And so do leaders in dozens of industries across America.
What we need right now is unified action. We haven't had nearly enough of that. And, by coming together and checking our party politics at the door, I know we can make an actual difference in so many lives.
We're going to be talking about this a lot over the coming weeks and months. And, in that time, you can be sure I'll be asking for your grassroots support. Because, when it comes to a situation this dire, it's time for everyone to get involved.
Jim
Posted on October 28, 2021
.