I'm right there on the lines with them
Some of Massachusetts' finest first responders are in a tough spot. I'm talking about the nurses who are employed by St. Vincent Hospital in Worcester. St. Vincent's is owned by Tenet Healthcare, a giant for-profit healthcare corporation based in Dallas.
Here's the situation: for all that they've been through, and for how hard they work, Tenet refuses to make any movement to address the nurses' concerns. As a result, and after much discussion, the nurses went on strike nearly three months ago to demand safer staffing ratios and to force the hospital back to the bargaining table.
Here's the problem: Tenet Healthcare, instead of looking to negotiate and work with their employees, would rather spend millions on temporary nurses, and has recently announced efforts to permanently replace these striking workers.
Let me be clear: I stand with the nurses who have worked tirelessly throughout this pandemic, and who deserve safer working conditions.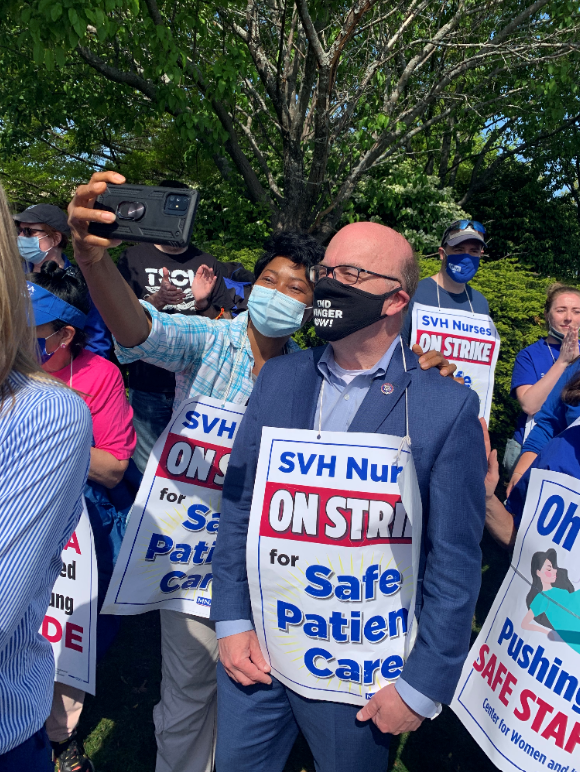 I joined these nurses on their picket line for a few important reasons: I wholeheartedly support their efforts for safer patient limits, fairer wages and benefits, and because I oppose giant corporations trying to shrug off these conversations by attempting to permanently replace these frontline workers.
You know what I think's better: let's get back to the bargaining table, and let's work out an amicable agreement that honors the hard work and sacrifices of these nurses.
Join me on Facebook. Let's continue to have this conversation and discuss how we can better support Central Massachusetts' nurses.