Our rally with Keith Ellison
Two weeks ago, Minnesota Congressman Keith Ellison and I held a rally in Amherst and got to talk with hundreds of grassroots supporters determined to fight for our progressive values.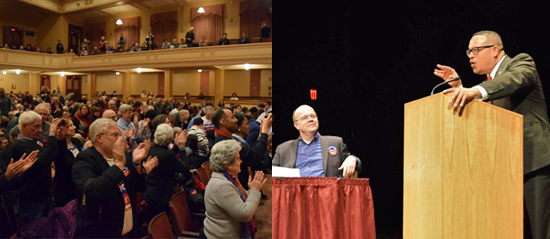 It was a blast – and I want to share with you some of what we discussed and why it's so important for our movement.
First off: It's okay for activists to focus locally and prioritize issues they are passionate about. There's a lot going on and many of us (myself included) sometimes feel like we have to keep our eyes on everything. But this is an endurance race and we need to pace ourselves, avoid burnout, and build community within local resistance groups.
Your stories matter. Facts are important, but you're more than just a statistic. The success of our movement depends on all of us telling our stories and listening to our neighbors. It's through these stories that we can inspire others to turn out to vote and win the fights ahead.
Your calls and petitions to Congress make a big difference. I've always told my constituents to keep calling, writing, and engaging with my office because it helps me be a better Congressman and fight for the issues that matter to our district. Sharing your priorities and stories with your member of Congress can change the course of history – even if that member of Congress has different political beliefs than you.
In this time of uncertainty, there are days where I, too, feel discouraged. But then I think of how I might have grandchildren someday, and how they might ask what I did during this nationwide crisis. I want to be able to tell them I fought like hell, that we built a historic movement for change, and that we won.